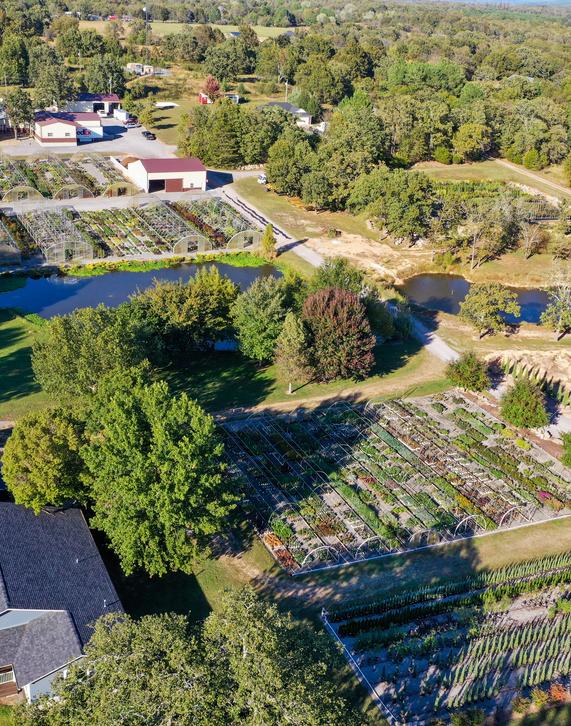 About Sooner Plant Farm
Overview
Sooner Plant Farm, Inc. is located in Northeastern Oklahoma, also known as Green Country. We offer over 4700 varieties of the most popular landscape plants and trees, as well as many hard-to-find and rare cultivars that are available in the United States. We ship directly to your door via FedEx Ground, and we stand out with our well-established, containerized plants that range in size from small one-quart size perennials, large 5-6 foot tall 5 gallon size trees, and even large 7 gallon size shrubs!
Our knowledgeable team of growers and customer sales staff are expert horticulturalists and have spent most of their lives in the plant industry. It is our goal to help you solve your plant problems, answer your plant related questions, and supply your landscaping plant needs. We value each of our customers, and we sincerely appreciate the opportunity to serve them and our future customers with the highest service, respect, and professionalism in the plant industry.
One thing to consider when buying plants online is whether you are dealing directly with the grower, or just dealing with a marketing company. Because we are experienced growers, we can stand behind the plants we sell and are 100% committed to your satisfaction.
Feel free to contact us with any plant questions, we would be honored to help in any way we can. 
Sincerely,
Brian & Marsha Chojnacki
Owners of Sooner Plant Farm
History
Sooner Plant Farm, Inc. was started in fall of 1999 as a wholesale landscape plant grower and supplier to independent nurseries and garden centers in our tri-state region. In 2004, we created our first website to explore the feasibility of selling plants online and successfully shipping those plants direct to the consumer using FedEx Ground. Since shipping large potted plant material directly to home customers was not being done, we invented and designed special shipping cartons and methods to securely hold and protect live plants for successful and timely delivery. In 2007 the decision was made to leave the wholesale business altogether and devote all our efforts into our rapidly growing internet business. Through trial and error, we have perfected our shipping methods and we are now a top ranked internet nursery retailer and supplier of high-quality landscape plants and trees for gardeners and home DIY landscapers, successfully shipping the largest plant material available online and delivered to your door.
Sooner Plant Farm, Inc. offers only high-quality plants and products at the most competitive prices, and due to our massive inventory, we can offer prices which are much lower than most other online and mail order companies. We strongly encourage you to compare us with other companies on pricing, shipping, and handling costs, and customer satisfaction. We're confident you will be completely satisfied with all our products and services. We are a Dave's Garden Top 30 Company and believe our Garden Watchdog rating proves our commitment to customer satisfaction.