Simplot® Best-Paks Controlled-Release Fertilizer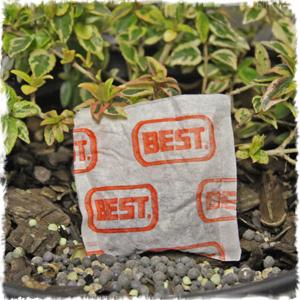 We highly recommend using Simplot® Best-Paks Controlled-Release Fertilizer for the proper feeding of all the plants in your garden. Each biodegradable Best-Pak Fertilizer packet contains GAL-XE ONE™ coated nitrogen, plus the right ratio of macro and micro nutrients to feed most plants for an entire year. They are very clean and easy to use, simply drop one packet per gallon size of the container in the hole at planting time. The biodegradable packaging also effectively limits the amount of leaching of nutrients into the soil, thus greatly reducing the amount of groundwater contamination.
Each packet contains the following:
A 20-10-5 Nitrogen-Phosphorus-Potassium ratio
Nitrogen--------20.00%
Phosphorus----10.00%
Potassium------5.00%
Calcium---------2.00%
Magnesium-----2.00%
Sulfur-----------5.50%
Copper---------0.25%
Iron-------------0.90%
Manganese----0.25%
Molybdenum---0.002%
Zinc--------------0.15%
For future applications of Simplot® Best-Paks Controlled-Release Fertilizer we recommend you use one packet for each tree up to 4ft tall add one additional packet for every two foot of growth above that. For example, a 6 ft tree would use 2 packets. Use one packet for each shrub under 1.5ft wide and/or tall, add one packet for every additional 1.5 foot of shrub growth. Easy to use no mess or hassle just punch a hole and drop in the packet and cover, your plant is now fed for one entire year.
Availability
BEST-PAKS® Fertilizer Pack (25 Pack)
$15.00

BEST-PAKS® Fertilizer Pack (50 Pack)
$25.00

BEST-PAKS® Fertilizer Pack (100 Pack)
$35.00