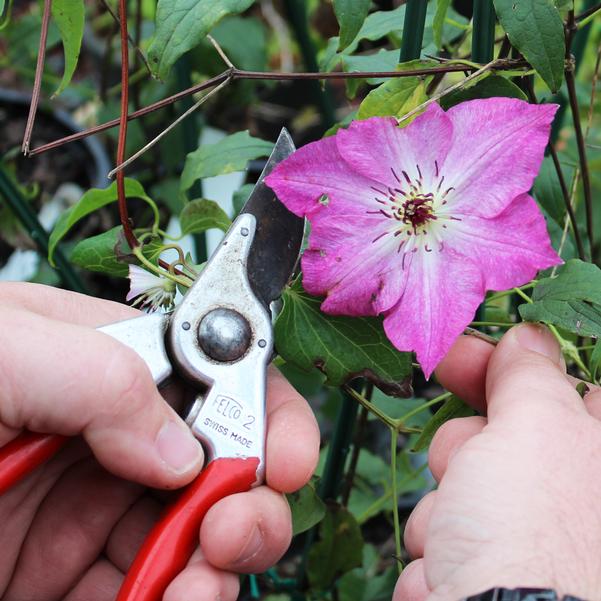 How to Prune Clematis Vines
Growing clematis in your landscape or garden is easier than you think and is sure to offer tons of enjoyment.
Clematis is possibly the most diverse flowering vine due to all the breeding that has taken place to produce hundreds of different varieties. These cultivars come as single and double petal, flowers, single color, bi-color, multi-color, as well as different flower shapes, it's easy to start collecting and becoming obsessed with them.
It seems some people have great success growing clematis, while others not so much. We hope these growing tips enable you to become more successful with this wonderful species of flowering perennial vine.
Correctly pruning your clematis vines will maximize the abundance of flowers for the coming season. Clematis are typically grouped into three different pruning categories.
Group 1: Consists of mostly evergreen varieties of clematis and are found in zones 6-9. These varieties seldom die back to the ground and produce flowers on the previous year's growth. Most of these are early bloomers as they do not have to grow new vines from the root system. Light trimming to shape up the bulk of the plant is all that is required to keep this group healthy and actively producing large healthy flowers.
Group 2: Mainly consists of mid-season bloomers. This group also flowers on the previous year's growth, as well as vines that are produced during the current season. These varieties can flower more than once in a season if conditions are favorable. Flowers will occur from the ground up to the top of the plant. Most double flowered cultivars are a part of this group. An easy way to identify cultivars in this group is by the new swelling leaf buds throughout the vines in early spring. As you inspect your vines look for dead stems with no live buds, and these dead stems should be removed. Feel free to also remove any wild or wandering vines that are growing out of bounds.
Group 3: Consists of cultivars that only produce flowers on new growth from the current season. It is best to trim these back to the ground each year. Most of the late blooming varieties fall into this group. If you do not prune this group back most of the flowers will only be at the top of the plant. Cutting the old vines off encourages new stems to grow and doing so will help to ensure your clematis will remain healthy and vibrant, and will produce an abundance of flowers.
Regardless of what group your clematis falls into, pruning your clematis back to the ground every few years can help rejuvenate your vine and keep it looking fresh. We also recommend using water soluble fertilizer that is formulated for bloom production before the plants start blooming and the transitioning to a slow release fertilizer after flowering. Clematis should receive 4-6 hours of sunlight and mulching or shading the root zone in southern states is highly recommended.